Experience the Akha Tribe life during 2 days, and learn their unique culture
Private trekking
Come and experience something unique, closer to the mountain tribe life of the Akha people, in a
village in the jungle
that is still untouched by mass tourism. The
authenticity
, warmth, and
smiles of the locals
will transport you to the heart of
genuine Thailand.
The Akha, a mountain tribe, inhabit the mountainous regions of northern Thailand, especially in the province of Chiang Rai. Their rich and distinctive cultural identity is a key element of regional ethnography.
Traditional Dwellings:
The Akha live in dispersed communities in high-altitude villages, constructed with natural materials such as bamboo and wood. Their houses are often on stilts with thatched roofs to withstand the rigorous mountain weather conditions.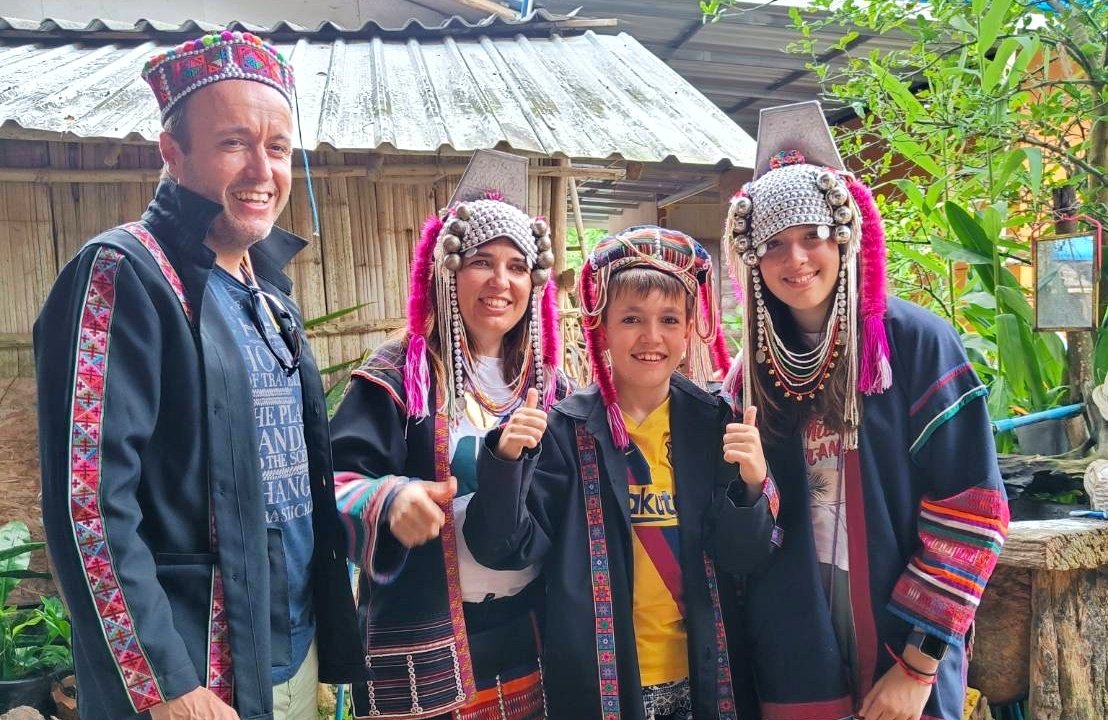 Traditional Costumes:
The traditional clothing of the Akha is easily recognizable. Women often wear black or dark dresses adorned with colorful embroidery and beads, while men opt for simpler attire, typically in black or dark blue. These costumes are a means of preserving and proudly displaying their cultural identity.
Terraced Agriculture:
Agriculture is at the heart of Akha life. They are renowned for their mountain rice terraces, an example of ingenious farming in steep terrain. In addition to rice, they cultivate other staple crops such as corn, coffee, and various medicinal herbs.
Artistry:
The Akha are known for their artisanal skills. They create textiles, jewelry, and decorative items adorned with geometric patterns and traditional symbols. Their craftsmanship is a source of pride and income for the community.
The Akha tribe in Chiang Rai offers a
unique cultural experience in a picturesque mountain setting.
Their history, traditions, and their struggle to preserve their way of life make them a fascinating community to explore for travelers interested in ethnography and the cultural richness of northern Thailand.
Departure and drop-off at Chiang Rai. From Chiang Mai, please contact us prior to a booking.
The program of Private Eco-trekking Akha 2 days 1 night Chiang Rai
Day 1
Departure from your hotel in Chiang Rai around 8:00 - 8:30am
Trekking in the surrounding jungle for about 2-3 hours.
Discovery of the plants and herbs of the region.
Fun learning thanks to the passionate guide who will accompany you.
Relaxing break and swimming near the waterfalls.
Lunch (meal cooked in bamboos)
Trekking for approximately 1 to 2 hours to the village of the Lahu tribe (discovery of mountain life).
Return to the village of Akha
Dinner and overnight in the village
Day 2
Breakfast in the village
Learning mountain life
Trekking around the village
Fishing activity Akha with the inhabitants of the village and cook the fish you have caught!
Road from Akha village to Chiang Rai
( VIP bus to Chiang Mai (5pm - 8pm) + 400thb/pers ).
Gallery
Programs:
1 day
|
2 days 1 night
|
3 days 2 nights
|
all trekkings