Home
Trekking Chiang Mai Thaïlande
Welcome to Chiang Mai Trekking, here you can book directly the best trekking in Chiang Mai private or join group. One, two or three days treks. Elephant trekking and mahout training. Photos, videos and reviews. Explore and book now !
You can do 3 Trekking programs in Chiang Mai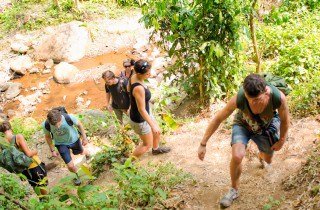 La plus authentique des expériences avec ce trek de deux jours qui vous emmènera dans la région … [Book now...]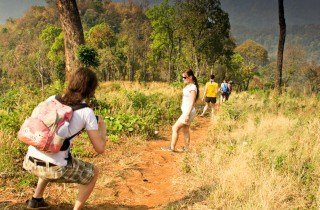 Le trek d'un jour vous emmènera dans la région Nord de Chiang Mai, réputée pour ses splendides … [Book now...]
Meilleur trekking chiang mai
Chiang Mai Northern Thailand offers trekking opportunity, it is well-known through out the world, and Chiang Mai trekking is one of the main draws for tourists to visit this region. Trek starts from 1 day trek to multiple days, most of the tours are designed for anybody reasonably fit and do not mind walking a little together with experienced and licensed tour guides. You will be discovered the mountains, tropical jungles, waterfalls, flora and fauna, a chance to stay over night at a hill tribe village. On top of that, you will have a chance to enjoy other fun activities such as elephant riding, bamboo rafting, and white water rafting.

Maybe you just want to trek through the jungle or maybe you really want to get away from the crowds we have something to suit you. It is a worthwhile experience to trek in Northern Thailand, you will be in touch with an unspoilt nature and enjoy your moments away from crowded tourists areas. Thus, trekking is the perfect solution. The areas are completely safe and well organized, with registered and experienced tour guides leading you down and up into the jungles. Come with us and discover the natural beauty of trekking Chiang Mai in Northern Thailand.